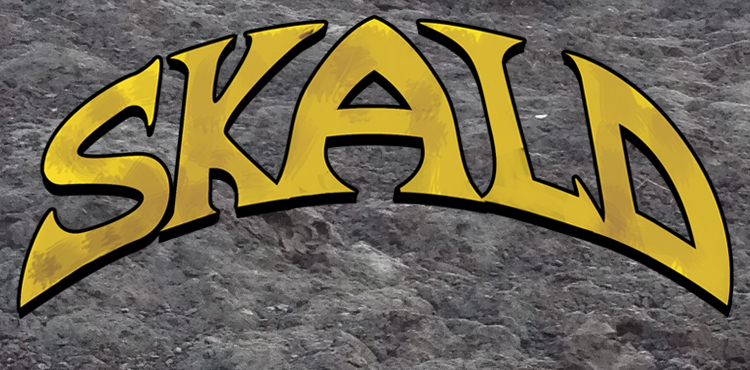 If you watched or listened to this week's STRAIGHT SHOOT with Andy Williams & Katie Linendoll, you've already heard the news: I'm launching a brand-new podcast, called SKALD, this Thursday!
To answer your first question…No, it's not wrestling-related, but despite that fact, I'm hoping that a lot of you will still hang around to check it out.
The short, quick-and-easy description of SKALD is that it's an "ongoing, serialized, fantasy narrative," but I don't think that fully explains the concept and intention.
A "skald" is basically just a Scandinavian or Icelandic bard, who would tell heroic tales for his patrons. They were part of a rich, oral storytelling tradition that goes back to Homer singing about the Trojan War, and even further, to cavemen gabbing about yesterday's big mammoth hunt. But despite being humanity's oldest storytelling medium, oral storytelling has kind of fallen by the wayside.
This is disappointing because in 2015, podcasts are massively popular, and that's a medium built entirely upon audio-only entertainment. This is why I've decided to try to bring oral storytelling back in my own unique way.
SKALD is a sword & sorcery story, but it's one that I'm writing specifically for an audio-only medium. This isn't an audiobook, with you listening to stuff that's meant to be read – SKALD is meant to be heard. It's also not a radio serial, so you won't ever hear wacky voices or sound effects or even music. My voice is the only instrument on the show.
I'm writing SKALD ahead of time – it's not an improv thing – but while writing it, I'm always keeping in mind that this is a medium that's different than any other I've ever worked with. It has limitations for sure, but it also has specific strengths that I'm working really hard to play up and take advantage of. I'm also doing everything in a single take, which…is way more difficult than I imagined, and as a result, I've recorded and rerecorded the first episode approximately a bazillion times.
At the end of the day though, I'm extremely excited and proud of this new project. For years, one of my biggest frustrations has been the fact that to make many forms of art, you need to rely on other people, and by and large…other people are unreliable. This is why STRAIGHT SHOOT has been a success, and why I hope SKALD will be too: Because it's all resting on my shoulders.
If you like STRAIGHT SHOOT, if you dig my sensibilities and aesthetic, if you like fantasy stuff at all…I hope you'll give SKALD a shot. The first episode launches this Thursday, and I'm hoping to have it up on iTunes & Stitcher shortly thereafter. In the meantime though, you can and should subscribe via Podomatic.
Big thanks to Tommy Smith for designing the awesome logo you see above, along with our still-to-be-debuted podcast album art. Also to Mike Bamonte, who is kind enough to help me mix and master the audio to make it sound as good as possible.