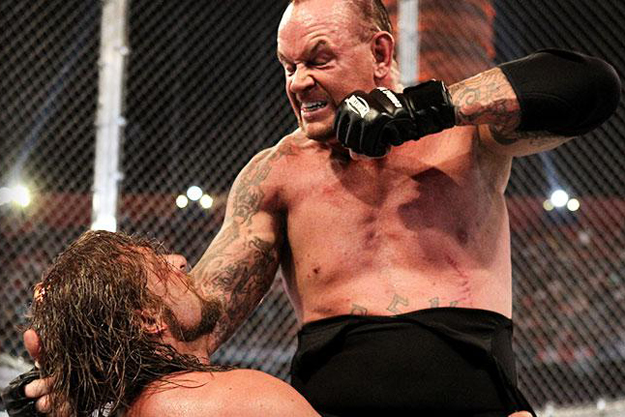 As expected, WrestleMania 28 blew the previous year's event completely away in terms of match quality, signal-to-noise, celebrity wrestler performances and any other metric you might care to apply. While it wasn't a perfect show, and there were quite a few finishes that left me…puzzled, it was a stand-out pay-per-view that felt overwhelmingly huge and important. I watched the entire show amongst an awesome, rowdy crowd at Highland Park in NYC, so I didn't tweet as much as I probably should have last night – besides I was trying to enjoy the show! So, instead, check out my assembled thoughts below, post late-night Mad Men catch-up and good night of sleep:
The Rock def. John Cena
Going into WrestleMania 28, most internet smarks were convinced that Chris Jericho and CM Punk would put on the match of the night, but I wasn't so sure. While those two guys are easily my favorite wrestlers currently working anywhere, I think it's a mistake to discount the in-ring storytelling abilities of John Cena or the Rock just because they don't wear kickpads. This turned out to be a bangarang, nail-biter of a match, with the finish completely up in the air up until the final pinfall. Stand-out moments included Rocky nearly fainting in the STF, Cena attempting to hit the People's Elbow and an absolutely thunderous Attitude Adjustment. Really top-notch work from everyone involved – THIS is how you put on a wrestling main event.
My only problem really was with the finish. I've loved the build-up to this feud (once it got going that is), and I've loved watching Cena get fired up and really give it to the Rock verbally, so I was pretty disappointed that the Rock ended up going over. I understand it, sure – he's in his hometown, the crowds (in the arenas at least) seem to overwhelmingly prefer him to Cena and WWE typically likes to send fans home happy after WrestleMania. But still, it doesn't seem like a smart long-term move, as what Cena has said about the Rock is largely true: After the fallout from WrestleMania, he'll be gone, working on his next flick, while Cena will still be responsible for carrying the company on his shoulders. There's no way of knowing who is to blame for the finish – or if something good might come out of it – but it's especially frustrating because of the fact that 10 years ago, when Hulk Hogan came back to face the Rock, the Hulkster laid down for him. It would have been nice to have the same passing of the torch moment between him and Cena.
It's completely possible that Rock was given the win here in order to set up a rematch at next year's WrestleMania XXIX (as has been rumored on the dirt sheets), but you could have built the same rematch by having Cena win here. In fact, letting Cena go over would have given him some serious credibility in certain circles, and could have raised fans anticipation even higher for next year's event.
WWE Champion CM Punk def. Chris Jericho
By the time it ended, the WWE Championship Match between CM Punk and Chris Jericho had turned into a stunning display of agonizingly suspenseful finishers, with Jericho even busting out the incredibly awesome Liontamer version of his Walls of Jericho finisher, and Punk showing off numerous ways to counter into his Anaconda Vise. But, somewhat surprisingly, the match took a long time – maybe even too long – to actually get going. It's not just that it was a slow build, as everyone who was excited for this match was likely expecting things to start slow and steady, it's that the match wasn't even that "technical." I would have loved to see these guys put on a mat-work clinic or even exchange wristlocks for 20 minutes before hitting the ground, but that's not what we got here. It turned into a hell of a match, sure, but it wasn't exactly the technical performance that these guy's most vocal and adamant fans were expecting, which seemed like an odd choice for me. I thought this was a shoe-in for Shitterson Match of the Night, but it ended up only getting that Silver Medal.
Like the Cena/Rock match, I was also a little puzzled by the finisher here. Granted, I'm an unrepentant Jericoholic, and I want to see that guy win pretty much every match he's in ever, but it still seemed like an odd turn to take, seeing as their feud has barely gotten started. If WWE plays it smart, they can milk this conflict for months, and I believe the matches themselves will only get better with time. But, with Punk having beaten Jericho clean, there doesn't seem to be much reason for the feud to continue atExtreme Rules, barring Jericho revealing yet another embarrassing Punk family secret (which has been one of the less interesting parts of this rivalry). WWE even opened a door for themselves earlier in the night when John Laurinaitis informed Punk that he could lose his title by disqualification – but for whatever reason, they decided not to step through it. Personally, I would have loved to see Jericho weasel his way into a WWE Title run through Punk getting disqualified, and would have only intensified what I hope is an ongoing feud. Great match, but a strange choice for a finish.
Team Johnny def. Team Teddy
Despite all the talented guys involved, everyone knew this match was going to be an absolute mess. There were just too many guys, wacky gimmicks, valets, managers and dwarves for this to play as a good match. Still, I was shocked to find myself actually getting behind Zack Ryder during his late match en fuego run, especially since WWE has done such an efficient job of killing that guy's momentum. And while Eve distracting Ryder was not only kind of motivation-less, but also too reminiscent of A.J. costing Daniel Bryan the World Heavyweight Title earlier in the night, I still popped for the Miz sneaking in to win the entire match with a Skull-Crushing Finale (still hate that name).
This is one of only two finishes of the night that I was completely OK with, seeing as Laurinaitis has proven himself a better heel authority figure than he ever was a wrestler. I'm not exactly thrilled with the fact that WWE has seemingly completely abandoned the brand separation by uniting Raw and SmackDown under a single bossman, but if it has to be done, I'd much rather Johnny Ace be running the show than Teddy Long.
Undertaker def. Triple H
This was, without a doubt, the Shitterson Match of the Night. The Hell in a Cell stipulation, the endless chairshots from Triple H, the Hell's Gate into a powerbomb, absolutely everything Shawn Michaels did, Good Ol J.R. on commentary – everything added up to a match that was even better than last year's Taker/HHH slugfest. Hell, I'll have to rewatch everything before I say for sure, but I don't even remember enjoying either Taker/HBK match as much as I did this. We all knew that Taker was going to win the match, but with Michaels as the official and Triple H at his most relentless, I legitimately didn't know how he was going to do it – the two veterans did a phenomenal job bringing suspense to a match that never had its finish in question. I was also impressed by the way that they managed to make the Hell in a Cell seem brutal without busting through the cage or climbing on top of it.
WWE must be both delighted and nervous when it comes to the Undertaker now, as they proved that they could build matches with the Phenom even though he only wrestles once a year, but also have to start thinking about what's next. Personally, story-wise I think I might prefer the Undertaker wrestling only once a year, as it makes his appearance seem truly special – I loved it when he was a regular SmackDown performer, but it was hard to get excited about him when you could see him fight Matt Hardy, Mr. Kennedy or whoever else week in and week out. After this show, I'd definitely watch a fourth Taker/HHH Mania match, but I'm really hoping that they start throwing Taker up against some guys he hasn't faced at the big show, including John Cena, Rey Mysterio and maybe ever newer guys like Sheamus or CM Punk.
Maria Menounos & Kelly Kelly def. Divas Champion Beth Phoenix & Eve
This match was far better than it had any right to be. Not only was it a Divas tag match – a form of wrestling entertainment WWE has trained fans to expect absolutely nothing from – but it also featured a celebrity wrestler who also happened to be suffering from broken ribs sustained while dancing. Even considering Menounos' as-good-as-anything-Kelly-Kelly-has-ever-done performance in WWE a couple years back, things didn't bode well for this particular contest. But to everyone's surprise, the four Divas actually put on a shockingly energetic, drama-filled match.
Still, I wasn't exactly thrilled by the finish. I knew that Menounos pretty much had to get the pin – it's likely the only reason she agreed to the match, and WWE likes to make their celebrity guests look good – but I had really hoped she would get the win over Eve. Even by sneaking up on her with a roll-up, Menounos' pinning of Beth Phoenix not only diminishes the threat and value of WWE's best female wrestler, but it also denigrates the Divas Title she holds. No, nobody takes the Butterfly Belt very seriously in the first place, but this kind of stuff definitely doesn't help, especially when it would have been so easy to have her pin Eve instead.
Big Show def. Intercontinental Champion Cody Rhodes
I was very excited for this match. Over the course of 2012, Rhodes has evolved into a fantastic, nuanced, hateable villain, and during that time Big Show has reminded everyone why he's one of the best big men to ever work a wrestling ring through some phenomenal matches with smaller guys, particularly Daniel Bryan. Plus, given that Show hadn't really had a chance to put his hands on Rhodes during the build up, I was really excited to see what the two would do in the ring together. It was a great, wonderfully paced match, from Show's early dominance to Rhodes' clever comeback to the eventual cathartic release of Big Show's winning punch. A perfectly timed midcard WrestleMania match.
I was going to be happy with any way this match ended up, seeing as a Big Show win would be fantastic validation and revenge for the wrestler, and a Cody Rhodes win would have given Show yet another embarrassing WrestleMania moment, making him a kind of reverse Undertaker. But while I'm fine with the finish they chose, I'm still a little saddened as I've loved Rhodes' run with the IC Title, and think that a "reverse Undertaker" gimmick for Big Show could have yielded some real dividends for WWE. Hopefully Show will have a good, impressive run with the IC Title, continuing to imbue it with the respect that Rhodes demanded through his excellent run.
Kane def. Randy Orton
People complained a lot about the Kane/Orton feud during the build-up to WrestleMania. Admittedly, it wasn't really about anything, and was like a dumbed down version of the Kane/Cena feud from a few months ago (which also, wasn't really about anything), but I went into it with an open mind and somewhat optimistic. Between injuries and timing issues, there just wasn't much for either man to do at WrestleMania, but it would have been a mistake to leave either one off the card – this seemed like as good a solution as any. Best of all, given that both men know how to put on an entertaining wrestling match, we got just that at WrestleMania. Lots of back-and-forth and brutal action from two wrestlers with vicious gimmicks made for a lot of fun, and I totally popped for Kane's chokeslam from the turnbuckle.
My favorite part of this match, however, was that Kane actually got the win. I honestly didn't expect it to happen, as I thought WWE would go for the easy pop that an Orton victory would have gotten them, but this makes a lot more sense in terms of both storylines and building up heat for the Devil's Favorite Demon. No matter how bad a loss he has, Kane can always get his heat back by just showing up in a burst of flames and chokeslamming the bejeezus out of someone – especially with that mask on. But, after his Ambulance Match loss to Cena, he was going to need both a lot of flames and a lot of chokeslams. A WrestleMania win over a guy like Orton is going to go a long way toward reestablishing Kane as an unstoppable monster, and I'm looking forward to see what WWE does with him next, especially if it includes a brutal gimmick match at Extreme Rules.
Sheamus def. World Heavyweight Champion Daniel Bryan
I was pretty sure WWE would open WrestleMania XXVIII with a World Title match, but I fully expected it to be CM Punk vs. Chris Jericho, not because of any disrespect for the WWE Title, but because I thought they would want to try and perpetuate the somewhat-false notion that a Royal Rumble win gets you a spot at WrestleMania in the main event – not the opening match. It all started to make sense though, once I saw the totally shocking result of the match, with Sheamus laying Bryan out with a single Brogue Kick to the skull.
I like Daniel Bryan a lot and I've loved his World Heavyweight Title run and slow & steady heel turn. So, in a way, I'm sad to see that come to an end, especially since his feud with Sheamus wasn't ever about much of anything. Still, Bryan's first World Title run was far more successful and did more to get him over than anyone in recent memory – think back to how lousy CM Punk, Jack Swagger or even Rey Mysterio looked after winning the Big Gold Belt and subsequently getting beaten up by pretty much everyone. Normally I hate the out-of-nowhere Brogue Kick (or RKO) for a babyface victory, but here I'm completely fine with it as it will throw fuel on the fire of Bryan's constant verbal abuse and belittling of girlfriend A.J. This loss should help make Bryan more hateable than ever and hopefully lead to a longer rematch between him and Sheamus.