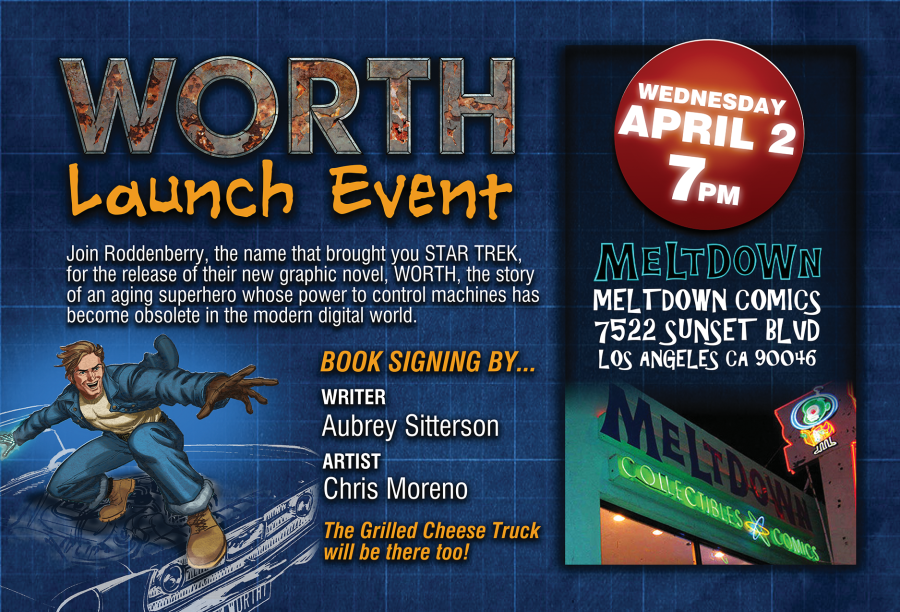 Worth is finally coming out, and you can get it this Wednesday, April 2 through your local comic shop, Amazon or Barnes & Noble! Or, if you're in the Los Angeles area, you can come on down to the famous Meltdown Comics at 7pm for the awesome Worth launch event!
I'll be there along with Worth's incredible artist, Chris Moreno, and we'll be signing books, eating grilled cheese sandwiches from the Grilled Cheese Truck and generally just praying to gods both holy and unholy that people actually show up to this thing. That's where YOU come in!
Whether we're friends in real life, digital friends or people who've never spoken a word to one another, I don't care, I'd love to see you at Meltdown Comics, this Wednesday, April 2 at 7pm.
Also, a reminder that the first four chapters of Worth are currently available via ComiXology, with the fifth coming on Wednesday, April 2, and the full digital edition releasing on April 16.