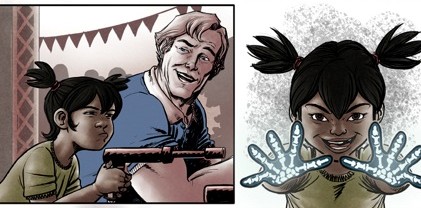 For about a year now, I've been working on a project I'm extremely proud of, the graphic novel Worth, featuring art by the tremendous, way-more-talented-than-I-am Chris Moreno. The book won't be available until September 4, but you can check out a three-page preview of the title RIGHT NOW over at Crave Online.
Worth is a 120-page graphic novel that spans almost half-a-century in The Motor City. Grant Worth, originally a swinging teenage superhero in the turbulent Detroit of the late 1960s, has his entire life turned upside down when the evolving nature of technology leaves him and his powers of mechanopathy (I made that up) behind.
What excited me most about Worth – outside of Moreno's absolutely phenomenal artwork, natch – is that it's an opportunity for me to explore several interests of mine: Man's alienation from his labor, the malaise and maladies of the modern world, radical revolutionary politics and bitchin' muscle cars.
I don't want to get too deep into it yet, as we still have another two months until the release, but suffice to say that the entire thing should be listened to with a soundtrack of The MC5, Iggy and the Stooges, The Dirtbombs and maaaaaaaaybe some early Ted Nugent.