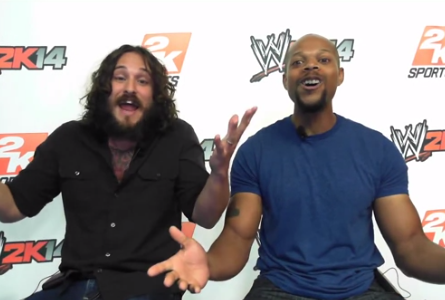 This past weekend was, frankly, a little crazy, but thankfully it was mostly just crazy AWESOME. On top of a really, really, REALLY phenomenal SummerSlam, we served up a ton of WWE 2K14 livestream content to our fans – and some of it even featured my hairy mug!
First up is the WWE 2K14 Gameplay Livestream. I joined forces with Senior Game Designer Bryan Williams on Friday afternoon to yammer over three full matches in the upcoming WWE 2K14 (Ultimate Warrior vs. Macho Man Randy Savage, Dolph Ziggler vs. Ryback and John Cena vs. Daniel Bryan), and we even announced two brand-new roster members: The aforementioned D-Bry and Rey Mysterio.
Over the course of the hour stream, we entertained more than 14,000 concurrent viewers and got #WWE2K14 trending in the United States. Since the stream took place, 44,000 more people have watched it on Twitch.TV and a whopping 121,000 have checked it out on YouTube. They can't ALL be wrong, can they? Go watch it or check it out below.
The following day, B-Will and I teamed up once again to host the pre and post-show for the WWE 2K14 30 Years of WrestleMania Roster Reveal. Unfortunately, due to some technical difficulties outside our control, we ended up starting a teensy-weensy bit late – hence the apologies up front and the abridged pre-show. After we yammer a bit, we kick into the meat of things: The reveal of every member of the WWE 2K14 30 Years of WrestleMania Roster by Jim Ross, Jerry Lawler, Damien Sandow and special guest Ric Flair.
This stream did even better than the Gameplay one, with more than 29,000 concurrent viewers all helping us make #WWE2K14 the number one trending topic worldwide on Twitter that afternoon. Since then, 54,000 more people have watched it on Twitch and 133,000 have taken a peek on YouTube. You've gotten this far, so why don't you go check it out or just watch it below: