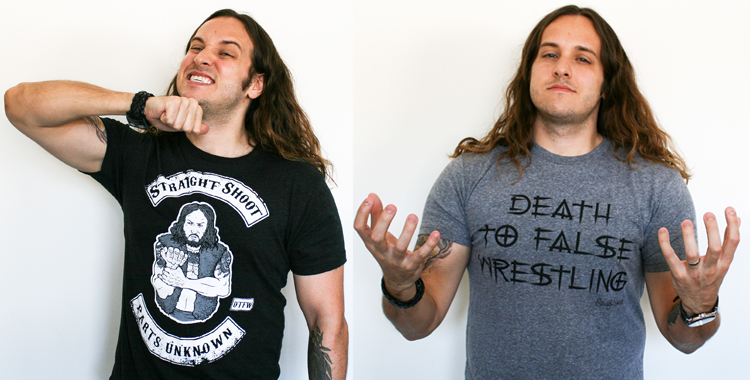 You've begged, you've pleaded, you've demanded…and I've obliged: Two brand-new limited edition STRAIGHT SHOOT shirt designs! Available now, exclusively in the STRAIGHT SHOOT store!
The first shirt is a something people have been asking about for some time now: A design that makes use of Ramon Villalobos' now-iconic artwork for the show. But instead of just slapping it down as-is, Raymond Wolfhouse himself has recolored the artwork in black & white and incorporated it into a motorcycle club rockers-style design.
The second design is pretty self-explanatory: DEATH TO FALSE WRESTLING. If you don't understand, I don't know how I could possibly explain it.
Like all STRAIGHT SHOOT shirts, both these designs are small batch and limited edition – once they're gone, they're gone. Order today. You snooze? You lose.
Both of these new designs are printed on Next Level tri-blend t-shirts. They're a blend of polyester, cotton and rayon, which makes them super soft, light and breathable, as well as the highest quality STRAIGHT SHOOT shirt yet. The fit is very much like an American Apparel shirt, so if you're on the cusp, you might consider ordering up a size.