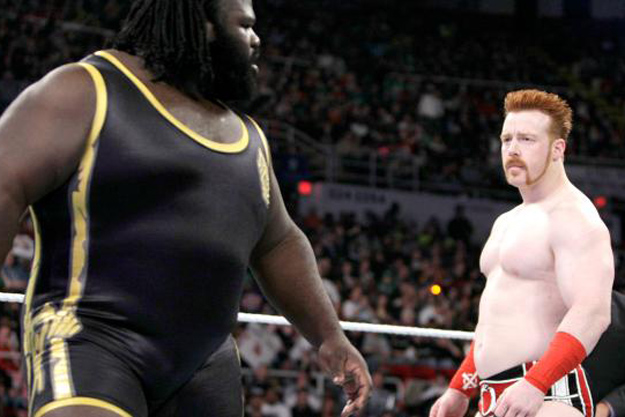 And we're back! After a fun, exciting and relaxing trip to Tokyo, your favorite babbler about professional wrestling is back in the saddle, ready to roll and mix metaphors until the sun comes up. Keep your eyes peeled up for a write-up the All-Japan Pro Wrestling show I took in at Korokuen Hall, which should be going up sometime next week, but in the meantime, why not hang around and check out my preview for this week's SmackDown over at GuySpeed.com?
Truth be told, sight unseen, this week's SmackDown sounds like a fair bit of treading water, and not exactly the exciting event you'd hope for during the build-up to Extreme Rules. But while the go-home SmackDown to this Sunday's pay-per-view was mostly taken up by things we've seen before (Cody Rhodes screwing Bi Show, Sheamus vs. Mark Henry) and stuff we probably could go without seeing (Nikki Bella vs. Alicia Fox), there's one match that I absolutely can't wait to see: Antonio Cesaro vs. Tyson Kidd.
I've been a fan Cesaro's since his time competing as Claudio Castagnoli on the independent circuit, and frankly, I'm still a little shocked that it's taken WWE this long to jump on the guy given his skill and athleticism, as well as the fact that unlike a lot of guys on the independent circuit, he's actually a big dude, billed at no less than 6 foot 5 inches. A few years back the Swiss wrestler was rumored to have a developmental deal torpedoed due to Visa issues, but thankfully all that's been apparently cleared up, and we can finally see Cesaro hit the ring.
A good worker and a fantastic heel, Cesaro was dynamite on the independent circuit, using his size to his advantage as he busted out a number of power moves, including one of my all-time favorite wrestling maneuvers, the Giant Swing. Fortunately, his first opponent on WWE television is a smaller guy, which should mean that he can use his size and strength to his advantage on the way to an excellent match. Of course, the fact that Tyson Kidd is a consistently under-utilized talent certainly doesn't hurt either.
Cesaro is one of several guys who, if the dirt sheets are to be believed, is ready to make the jump up from WWE's developmental territory FCW, including Jon Moxley as Dean Ambrose, Tyler Black as Seth Rollins and Chris Hero as Kassius Ohno. WWE has a lot of potential stars on their hands, especially considering the fact that the company has finally started looking for new hires on the independent scene instead of the bodybuilding circuit. As long as these guys are brought up and given a chance to succeed, 2012 should be an exciting year for wrestling fans.