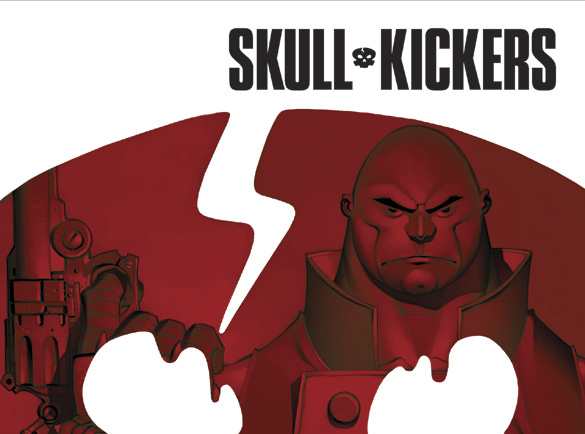 Jim Zubkavich, A.K.A. Jim Zub, A.K.A. that guy who makes awesome action-humor-fantasy comics at Image just announced it on Twitter this morning, so I'm finally free to talk about it: I won the Skullkickers Tavern Tales Contest!
I submitted my story idea, "Dues or DIE!" about three months ago, right after I first heard about it, again, via Zub's Twitter. There were a bunch of other writing submissions – more than 250, in fact – but thankfully, Zub saw something in mine, which means that I'm being teamed with a Tavern Tales Contest-winning artist for six-page story based on my idea in September's Skullkickers #18. It's one of the series' regular anthology issues, meaning I get to rub shoulders with some more established writers, who are just as excited as I am to get their hands on Baldy and Shorty. Handling art duties on "Dues or DIE!" is the incredibly talented Ivan Anaya – rest assured that if you haven't heard of this guy yet, you'll be hearing a lot about him in the very near future. He's that damn good.
Skullkickers is one of my must-buy titles each month, so I'm thrilled to have a chance to play around in that particular sandbox. For those unfamiliar, Skullkickers follows the adventures of two, erm, "Skullkickers," violent drink-loving mercenaries fighting, stabbing, slicing and shooting their way through a tabletop RPG-influenced fantasy landscape. If you like adventure, fantasy, pretty art, a few laughs or even just want to see what I'm yammering on about, you could do a lot worse than picking up some copies from your local comic shop. Or, you can even buy them digitally through Comixology – the series' zero issue is a free download so you don't really have any excuse not to try it out.
Keep your eyes peeled for more deetz, and make sure to head over to Skullkickers Headquarters to check out the art submission that won Ivan the gig.