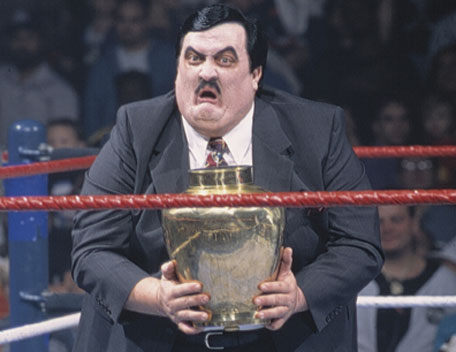 One of the neatest part about my job as Community Manager for WWE Games at THQ (aside from, you know, working in video games for a living) are the opportunities I've had to speak with folks in the wrestling industry. Of the folks I've met so far, one of the most fun and enlightening experiences I've had has to be my chit-chat with the legendary Paul Bearer.
I was fortunate enough to talk with the future WWE Hall of Famer a few weeks back as part of an interview promoting his appearance as a manager in WWE '13. But while we started off talking about the game, the more than two hour long interview covered a multitude of topics, including his time with the Undertaker, the role of managers in WWE and even some thoughts on country music icon George Jones.
I had a blast talking with Paul (and meeting him the following Sunday at a Championship Wrestling from Hollywood taping!), and you can check out some of the highlights from the interview over at the WWE.THQ.com mothership.