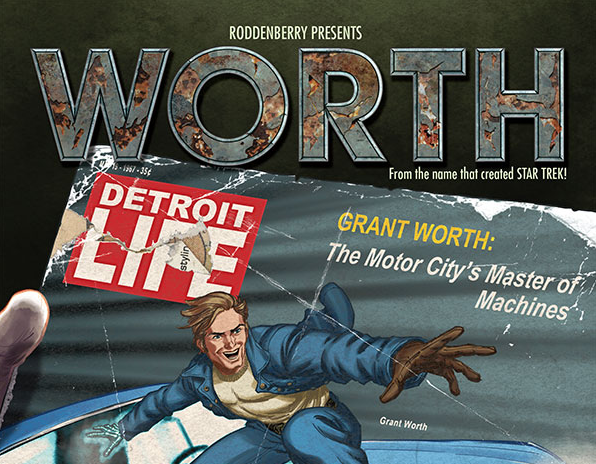 If you've been paying attention to my non-rasslin ramblings for the past year or so, you've probably seen/heard me yammering about my upcoming graphic novel Worth. Well, brace yourself, because the Worth-related yammering is about to kick up a notch or six, as the book starts coming out digitally NEXT WEEK, with print release soon to follow!
Worth is a full, original graphic novel, written by myself, with art by the unspeakably amazing Chris Moreno, and produced by Roddenberry Entertainment – you know, the name that brought you Star Trek. It's the story of a swinging late 60s revolutionary Detroit superhero who is forced to come out of retirement and save the crumbling Motor City. But beyond all the superheroics, Worth explores issues of interpersonal communication, how we fit into a rapidly changing world, and of course, muscle cars and fighting.
If that sells you on the book (and why shouldn't it!?) you can pre-order right now on Amazon, Barnes & Noble or at your local comic book retailer using Diamond order code for February: FEB140917.
But, if you still need convincing, you can check out a preview of the comic at the official website, and if you need even MORE convincing, you can – and totally should – download the entire first chapter for FREE this coming Wednesday, March 5 from Comixology.
A new chapter will be released via Comixology every week until the print edition hits stores on April 2, with the full digital version following two weeks later on April 16.
Stay tuned for more info, interviews, previews and more, and go order the thing for crying out loud!