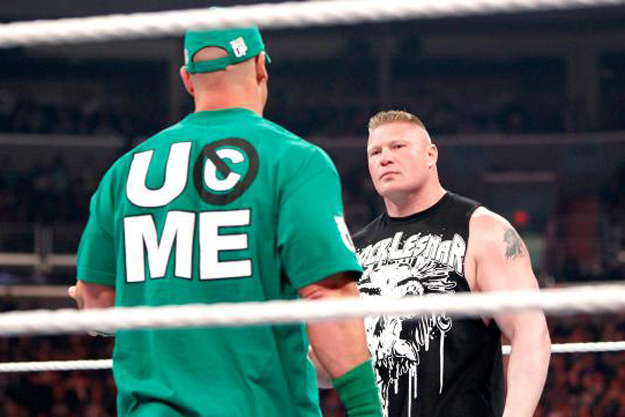 The future of WWE?
On this week's Monday Night Raw, John Laurinaitis referred to Brock Lesnar as the future of WWE. Of course, this is a little strange considering that Brock already had a WWE heyday around a decade ago. While it's probably not how Johnny Ace meant it, I think that he could very well be onto something here, as the return run of Brock (and the Rock before him) points toward a different way of booking main event wrestling feuds.
Though he's now appeared on two Monday Night Raw broadcasts in a row and has a match booked for the next pay-per-view, Extreme Rules, don't let that fool you: If the dirt sheets have it right, Brock Lesnar isn't expected to work a full-time wrestling schedule for WWE. That's already set some backseat bookers to complaining about Cena possibly jobbing out to another part-timer, or the company pinning its hopes on a guy who probably won't even be showing up for the company's numerous house shows. But, potential booking pitfalls aside, to my mind, this looks like nothing but positives.
Obviously there's the fact that Lesnar, despite the somewhat unimpressive finish of his MMA career, is still a huge get, and remains a big name amongst UFC fans. We'll have to wait until pay-per-view buy numbers for Extreme Rules come in to know for sure, but it wouldn't be surprising if Lesnar returned with some lapsed WWE fans in tow. But just as importantly, Brock's abbreviated schedule – one previously only available to long-time veterans like Undertaker or Shawn Michaels before his retirement – could be a fantastic thing for the industry if it became more prevalent, giving more wrestlers time to pursue other projects, concentrate on promoting big marquee matches or even just recover from nagging injuries. With a fresher, less worn out talent pool, the WWE product could only improve.
Plus, every time WWE allows a big name talent to come back and perform in a series of matches – especially a talent like Brock, who left the company under not-so-great circumstances – it normalizes the behavior and means that it's more of a possibility for other wrestlers. With the knowledge that they are free to leave and come back to the organization, perhaps with even a lighter schedule, wrestlers might be more inclined to take time off to recuperate from injuries and travel-related wear-and-tear. While WWE's live event business would start to run into trouble if all their top guys went this route, the fact is that a guy like the Rock or Brock Lesnar doesn't need to be around all the time to build up to a big match.
Finally, guys like the Rock or Brock Lesnar are a great alternative to the necessary evil of WWE Celebrity Matches. Regarding WrestleMania XXVIII, some people were surprised that the biggest celebrity to participate in the show was Maria Menounos, but that wasn't exactly true: The biggest celebrity at WrestleMania XXVIII was the Rock, hands down. Thing is, he's a celebrity who can actually wrestle, which means that not only do you get the star power, but you also end up with a phenomenal match. As long as WWE can keep Cena looking strong in his confrontations with wrestler celebrities like the Rock or Lesnar, this is a great use for the face of the company, who has grown so popular that he doesn't really need to hold the WWE Titles any more, and can instead leverage his celebrity against that of a series of antagonists from outside the company.
Could WWE totally screw the pooch with the Cena/Lesnar storyline? It's certainly possible. But after the two's brawl this week, I'm finding myself more and more excited about their feud's possibilities and the potential changes in booking philosophy it could point toward.