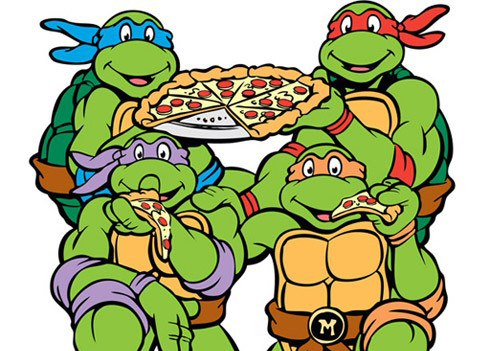 If you've been anywhere on the internet for the past week, you've probably heard a lot of folks getting all bent out of shape because of Michael Bay's plan to reboot the Teenage Mutant Ninja Turtles as aliens which are neither mutant nor alien (though presumably still somewhat turtley). Now, I'm not particularly looking forward to the Bay-produced Ninja Turtles flick, but that's on account of the fact that those Transformers movies did nothing for me – NOT because of some deep-seated, righteous anger that someone would dare tamper with the bastion of sacrosanct perfection that is the Teenage Mutant Ninja Turtles. Thing is, I, like most fans of the property, originally came to the TMNT as a fan of the cartoons, toys, movies and video games, and the nature of their appeal was far different from that of the original comic. For more detail, check out my article over at IFC.com.
And, as a special DROPKICK OUT THE JAMS bonus, some extra thinking I've been doing about TMNT that just refused to fit into that IFC piece…
There are countless factors that played a role in the success of TMNT: Timing of the series, a bitchin toyline, the amazing synergy between the two, etc. But looking back, what impresses me most about the cartoon are the core characters. Now, they certainly aren't well-rounded dynamic characters – really, they're little more than caricatures, but that's actually what makes them so great. For a young boy glued to the television set, there was always someone with whom to empathize on Teenage Mutant Ninja Turtles. I was a kind of angry kid, so my favorite was Raphael, but I also thought of myself as pretty bright, so Donatello was an obvious touchstone. And at my most self-confident moments, I felt like a Leonardo-type, while I pretty much always wished I could be the Michelangelo of whatever group I was in.
The four Teenage Mutant Ninja Turtles are near perfect archetypes, seemingly designed in a lab to appeal to young boys, who by their very nature, are by turns angry, clever, bold and wild. Even the extended cast of the show seemed to play into young boys' perceptions of themselves by offering hyperbolic versions of the Turtles' own personalities. Casey Jones was obviously Raphael ratcheted up to 11, while the Neutrinos partied harder than Michelangelo after a bottle of Mountain Dew. Taking that into account, it should come as no surprise why so many kids, including me, lost their absolute minds over Teenage Mutant Ninja Turtles, and remain extremely devoted to the concept today.
Of course, a giant evil brain from Dimension X and a neverending parade of anthropomorphic villains might have had a teensy-weensy something to do with it as well.