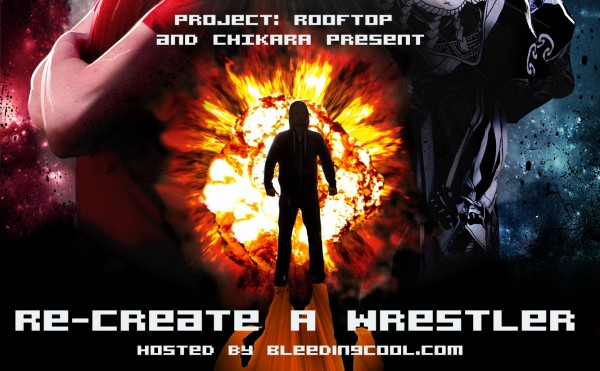 Exciting news that combines my love of both comics and wrestling: I'm going to be a judge in the Re-create A Wrestler contest, hosted by Bleeding Cool, Project: Rooftop and CHIKARA!
First off, some definitions:
Bleeding Cool: A top comic book and entertainment news/rumor/gossip site
Project: Rooftop: A website that encourages comic artists to redesign the costumes of popular characters
CHIKARA: A recently revived wrestling promotion with beaucoup colorful and/or masked characters
The Re-Create a Wrestler promotion is asking artists to design new costumes for four CHIKARA wrestlers: Hallowicked, Icarus, Equinox and The Shard. The submissions will be spotlighted on Bleeding Cool, then judged by a panel of experts including myself, Ruben Diaz, Vito Delsante, Chris Arrant and CHIKARA's Mike Quackenbush himself!
The top three scoring entries for each character will receive tickets to live CHIKARA events and CHIKARA t-shirts and DVDs, while the grand prize winner will receive an offer for paid work in an upcoming CHIKARA comic collection, along with a full online portfolio review by…me!
To enter, sent a jpg, png or gif of your redesigned costumes to recreateawrestler@gmail.com before May 2 at 5pmET.