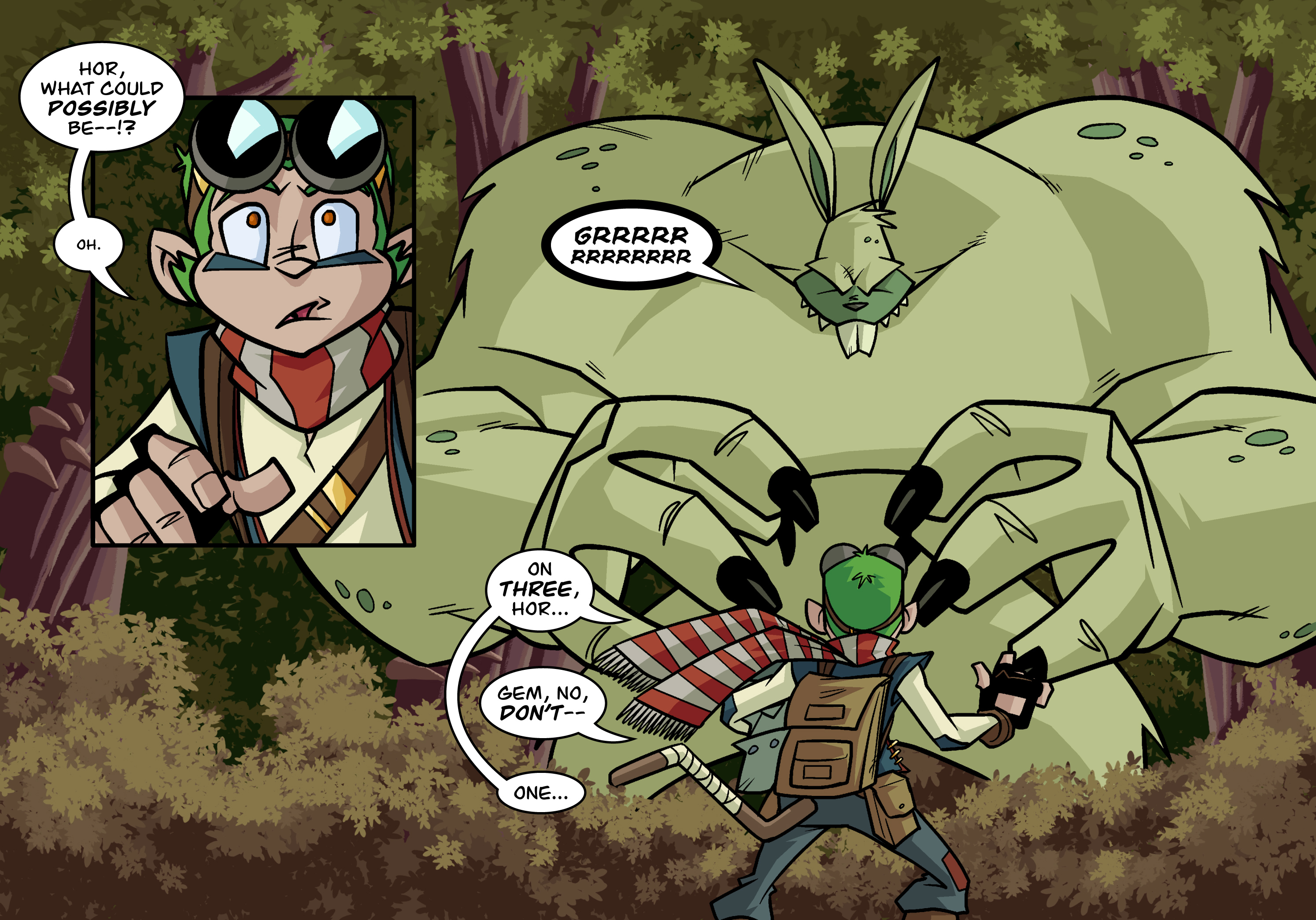 A few months back, I told you a little bit about Gear Monkey, a comics project by myself and the tremendously talented Nate Lovett, who, incidentally, is also one of the artists on Redakai: Invasion of the Gilfreem, also written by moi. Now, the long wait is over, and you can finally read the first-ever Gear Monkey story over at DoubleFeature Comics.
DoubleFeature is a really awesome webcomics publisher that sells "books" that contain two eight-page stories for only 99cents. You even get an option of how to purchase them: Either buy it through the web and get a digital rights management-free PDF that you can read anywhere on any device, or get it via the DoubleFeature Comics iPad app and you'll also be treated to a bevy of special features, including early sketches and commentary from the writers and artists.
Each issue of DoubleFeature Comics has a genre-focus, and Gear Monkey appears in Fantasy Double Feature #3. Gear Monkey focuses in on the Gear Monkey himself, known as Gem for short, and his big, robotic gorilla pal Horatio, as they make their way through a fantastical steampunk-inflected world. Even if you hate everything that Nate and I stand for, Fantasy Double Feature #3 is still a great buy, as the other story, Mythic, is by none other than Phil Hester and Brent Schoonover.
So, quit hanging around here looking for old Raw recaps and head over to DoubleFeatureComics.com or the iTunes App Store to get your digital copy of Double Feature Fantasy #3 and Gear Monkey! Make sure to tell your friends, family and frenemies, and even reach out to those full-on enemies – holding a grudge never did anyone any good, and Gear Monkey makes the perfect olive branch.