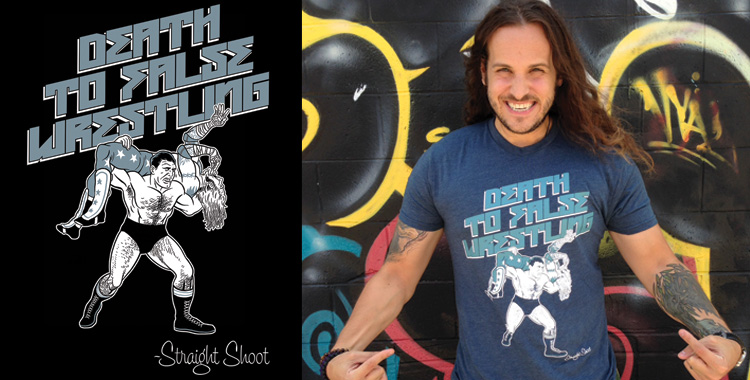 The day has finally arrived: New STRAIGHT SHOOT merch is now available, including limited edition t-shirts and, for the first time ever, stickers! Order now, because when these shirts are gone, I'm never ordering them again! That's what limited edition means!
The newest STRAIGHT SHOOT shirts are probably my favorite ones yet, and were designed by über-talented cartoonist, illustrator and all-around Solid Bro™ Brent Schoonover. And in case you're wondering…Yes, that is the same Brent Schoonover drawing Marvel's Howling Commandos series!
Ever since I released the very first DEATH TO FALSE WRESTLING shirts (now completely sold out – seriously, go order these ones right now), I've been inundated with the same question, over and over again: What does "Death to False Wrestling"? Honestly, if this shirt doesn't explain it to you, I think you should probably speak with a doctor.
Like all of my more recent shirts, this one is printed on Next Level tri-blend fabric, which makes it super soft and light and breathable. Trust me: This is about to become your favorite shirt ever. Be warned though…they fit like American Apparel shirts, which is to say a little smaller than normal, so if you're on the cusp, you might want to order up a size.
At the risk of repeating myself: Go order these shirts now. They will sell out, and I have limited quantities in each size, so seriously…no lollygagging. Order multiple DTFW TORTURE RACK shirts, stickers or some of the remaining STRAIGHT SHOOT ROCKERS shirts or even that one, lonely 4XL YOU'RE GETTING WORKED, BRO shirt and I'll combine shipping costs for you!