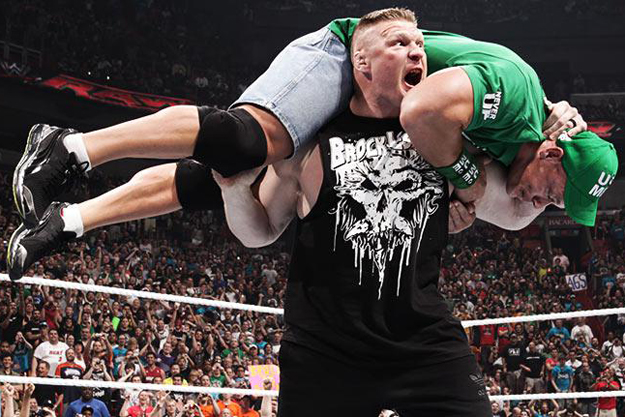 The big news on this week's post-WrestleMania XXVIII Monday Night Raw was, quite obviously, the returning Brock Lesnar, who followed in the Rock's footsteps by coming out and making John Cena look like an absolute joke. I'm a Brock fan, and would be excited about this match even if his t-shirt logo didn't look like the most awesome Danzig/Swamp Thing hybrid imaginable. Back when I worked at WWE, mentioning Brock on the website was absolutely verboten, even though the guy was a huge mainstream star during his run as UFC Heavyweight Champion. It was a perfect example of WWE cutting off their nose to spite their face, so I'm glad they've finally gotten tired of getting nosejobs (to stretch an metaphor).
But, as excited as I was by Brock's return, I was just as delighted by another returning, hulking, monstrous WWE wrestler from the early 2000s: Lord Tensai, aka Prince Albert, aka A-Train, aka Matt Bloom. The guy had an absolutely awesome squash match against Alex Riley, beating the absolute hell out of the poor guy, and likely curing him of any desire to ever go wrestle in Japan. Since 2005, the man now known as Lord Tensai has made his living kicking the crap out of Japanese guys in the country's biggest promotions, but his more recent work has been some of the most entertaining as it saw him team up with "Machine Gun" Karl Anderson as the tag team Bad Intentions.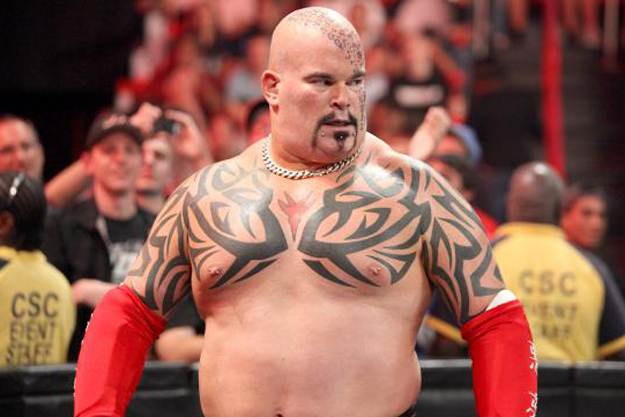 Aside from being a rad name, the humongous Bloom, going by Giant Bernard, was complemented perfectly by the smaller and more agile Anderson, a kayfabe member of the legendary Anderson wrestling family, with a Spinebuster that'd make old Arn proud. I met Anderson when I worked on the set of Jeff Katz's Wrestling Retribution Project in October 2011. Not only was he a swell guy, but wrestling as Killshot, he had my favorite match of the entire shoot against the Cornerstone, better known to wrestling fans as Kenny Omega.
Bad Intentions were an absolutely rad team, so if you dug what you saw from Lord Tensai this week on Monday Night Raw, you should carve out some time in your schedule to check out some of his Japan work. Pretty much anything you find on YouTube is going to be worth watching, but why not start with this bout that sees the IWGP Tag Team Champions Bad Intentions take on the GHC Tag Team Champions Yoshihiro Takayama & Takuma Sano.